Cashville Video Slot Review
Presented by Microgaming, Cashville Video Slot is one of the most popular new online slots games from this software development leader. This online slot machine has it all, Four Billionaires, Four Separate Bonus Rounds and you can win Four Billion Dollars! Okay, okay, we're exaggerating just a little bit here and you can't quite win four billion dollars, but meet one of the Billionaires in their Bonus Round and they will hook you up with some serious cash or maybe even the 50,000 coin jackpot!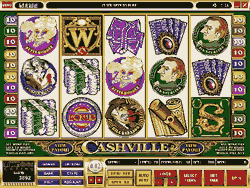 One of newest and most popular online video slots is a relatively recent release from Microgaming, called Cashville. This game has 5 reels, 20 paylines and allows the player the option to wager up to 10 coins per line. With a betting range between 0.01 cents and 0.20 cents, this new game is inviting to all different levels of slots player. Wagering 1 coin per line at 0.01 cent, this game can cost as little as 0.20 cents (1 coin x 0.01 cent x 20 pay-lines) per spin, while still allowing the player to take advantage of activating each of the 20 paylines.
SLOT HIGHLIGHTS:

Reels:
5
Paylines:
20
Coins/Payline:
10
Denominations:
0.01 - 0.20 cents
Bonus Rounds:
YES (4 Total)
Wild Symbol:
YES
Scatter Symbol
YES
Jackpot:
50,000 Coins
Gamble Feature Game:
YES
Free Game:
NO
For those players who can afford to play the maximum number of coins, as we recommend, at the highest denomination (0.20 cents), this slot machine will average $40.00 (10 coins per line x 0.20 cents x 20 paylines) per spin, however it is not necessary to wager at this level in order to be eligible for the Jackpot, which is 50,000 coins (NOTE: To be eligible for the 50,000 coin Jackpot, YOU MUST PLAY MAX COINS (10) AT WHATEVER BETTING LEVEL YOU CHOOSE!)
HOW TO PLAY
Cashville features four separate billionaires, namely: Sir Sterling, Dame von Deeds, Bette Boodle, and Bill Bullion. Your Goal is to get 3, 4, or 5 Bonus Symbols (See Payout Screen Below) scattered anywhere within the display. Accomplish this and you will have the choice between four different Bonus Rounds, which you may select yourself. Each separate Bonus Round involves one of the aforementioned billionaires. The four bonus rounds are described below and you can see the Bonus Screens below, as well!
BONUS ROUNDS
Sir Sterling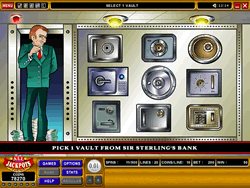 Should you select Sir Sterling's Bonus Round, you will be escorted to his vault where he keeps all of his mad money safely tucked away behind 9 stainless steel safes. During this round you will be able to choose a minimum of one of his nine safes for Sir Sterling to unlock for you. Behind one of these safes is 45,000 coins and if you choose the correct safe, you will be able to buy all of the sterling silver your heart desires.
Dame von Deeds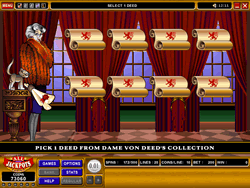 Dame von Deeds, another one of the billionaires in the game has quite a stock portfolio and if you select her Bonus Round you will be able to select at least one of her stock certificates at which time the value of the certificate (s) you selected will be revealed in coins that will be added to your winning total. Select the right certificate and you could receive 45,000 coins from the Dame herself.
Bette Boodle
Bette Boodle loves her Poodle! In fact, Bette is crazy about all dogs. She has an entire art gallery dedicated to each of her fine, furry four legged friends. Bette is also very secretive and she keeps a lot of her dough hidden behind the pictures in her doggie-devoted art gallery. When you choose Bette's Bonus Round while playing Cashville video slot, she will allow you to choose and keep at least one of her beloved paintings-now, you might not really want a dog painting, but behind the interesting artwork is a boatload of slots credits. You can win up to 45,000 credits in this Bonus Round, as well!
Bill Bullion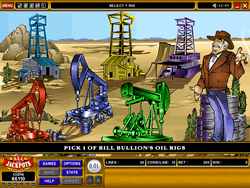 The fourth and final Bonus Round involves an oil tycoon from Texas named Bill Bullion. Bill, rumor has it, is a distant cousin of Texas Ted of Texas Tea Slot Machine fame. Bill became very jealous of all of the attention Ted was receiving by letting people pump his wells and become rich, so Bill decided to let slots players do the same thing on his parcel. This Bonus Round resembles the Big Oil Bonus in Texas Tea. In the Cashville Bonus Slot Round, however, you simply get to select from some of Bill Bullions oil rigs, which have already begun pumping the black gold. Pick a particularly juicy oil derrick rig and the more oil that gets pumped, the more credits you can win. You can win up to 45,000 coins in this round, as well and since Bill Bullion is trying to outdo his cousin Texas Ted, he has been extremely generous as of late.
PAYOUT SCREEN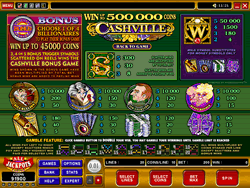 The payout screen is simple and easy to understand. By taking a quick look at the screen provided below, it is possible to see that the player may win up to 45,000 coins in any Bonus Round and by lining up 5 Wild Symbols on any payline, the machine will pay out the maximum jackpot of 50,000 coins. This online slots game also has a gamble feature where the player has the option to double their win by guessing a higher/lower type game.
Where Can I Play Cashville Video Slots Slots Online?