Halloweenies Video Slot Review
Presented by Microgaming, Halloweenies Video Slot is one of the most popular new online slots games from this software development leader and showcases their Viper Software platform. This online slot machine was tailor made for the Halloween season and can really spook you into some scary cash.
One of newest and most popular online video slots is a relatively recent release from Microgaming, called Halloweenies. This game has 5 reels, 20 paylines and allows the player the option to wager up to 5 coins per line. With a betting range between 0.01 cents and 0.20 cents, this new game is inviting to all different levels of slots player. Wagering 1 coin per line at 0.01 cent, this game can cost as little as 0.20 cents (1 coin x 0.01 cent x 20 pay-lines) per spin, while still allowing the player to take advantage of activating each of the 20 paylines.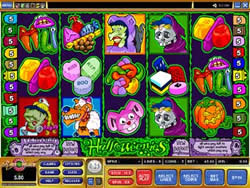 SLOT HIGHLIGHTS:

Reels:
5
Paylines:
20
Coins/Payline:
5
Denominations:
0.01 - 0.50 cents
Bonus Rounds:
YES (1 Total)
Wild Symbol:
YES
Scatter Symbol
YES
Jackpot:
50,000 Coins
Doubler Game:
YES
Free Spins:
YES
For those players who can afford to play the maximum number of coins, as we recommend, at the highest denomination (0.50 cents), this slot machine will average $50.00 (5 coins per line x 0.50 cents x 20 paylines) per spin, however it is not necessary to wager at this level in order to be eligible for the Jackpot, which is 13,000 coins (NOTE: To be eligible for the 13,000 coin Jackpot, YOU MUST PLAY MAX COINS (10) AT WHATEVER BETTING LEVEL YOU5 CHOOSE!)
HOW TO PLAY
Halloweenies is a coin based game, which means that your credits will be converted into coins once you make a deposit. Your main objective when playing this slots game is to get five Wilds in a row. Now, in this game the Wilds are hidden in one of the reel symbols and they 'morph' into the word "WILD" when they are being used to complete a winning combination - very cool! Barring that, you will also want to see three, four, or five Pumpkins, as this will trigger the Pick-A-Pumpkin Bonus wherein credits are awarded based on the credit values associated with the pumpkins you 'pick.' Linus, from Peanuts fame, spent many a Halloween night in the pumpkin patch waiting for the Great Pumpkin to appear and never got anything for his efforts. Believe us, YOUR efforts will be awarded much more fruitfully when you make it to the pumpkin patch in this game! The Pick-A-Pumpkin Bonus Round is described in more detail below and there are screenshots form this Bonus Round for you to view, as well. The Bizarre Bunnies serve as the scatter symbols in Halloweenies video slots and as long as three or more appear scattered anywhere within the display, you will get not one, not two, but THIRTEEN FREE SPINS. This is another neat feature of this slot machine that is consistent with the theme of the game. The Bonus screens are shown below.
BONUS ROUNDS
Pick A Pumpkin Bonus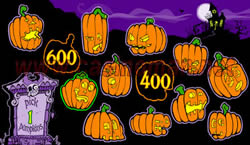 Depending on how many pumpkins you had scattered on the various reels, you will be able to select one or more pumpkins during the bonus feature. As you can see from our firs Pick-A-Pumpkin Bonus screenshot, this player was awarded three pumpkin picks, has selected the first two, was awarded 600, and 400 credits and now has one pick left.We think Linus would have been a little spooked in this pumpkin patch, to tell you the truth!At the conclusion of this bonus round, the non-selected pumpkins fade, but the credit amounts associated with them are made visible (just to make you feel bad if you did not pick the whopper!) and only the pumpkins you selected remain visible with their credit values bathed in an eerie moonlight glow.
Pick A Pumpkin Bonus (Final Screen):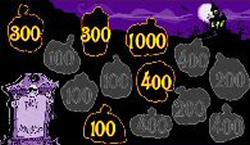 CONGRATULATIONS SCREEN
At the conclusion of either the BONUS ROUND or the FREE SPINS ROUND, the player will be greeted with a Congratulations screen displaying the amount of credits won during the given round. At the end of play, coins are converted back to credits once the game is exited.
Where Can I Play Halloweenies Video Slots Slots Online?