What On Earth Video Slot Review
What On Earth Video Slots are a relatively recent Microgaming release (as of April 2005) and one of the most popular five reel video slots online. What On Earth has a Sci-Fi theme and one of the most innovative, imaginative and exciting multi-tiered Bonus Rounds of any of the new slots games. In the Multi-Tiered Bonus Round (described below), you travel around the Globe in an alien spaceship and it is your mission to 'Beam Up' as many unsuspecting pedestrians from the various cities you visit. Talk about an Alien Abduction! Play this fun, new game and abduct some cash while you're at it, too!
Overview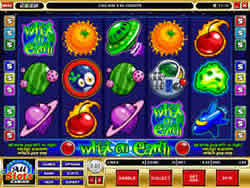 Bold, colorful and creative artwork sets the theme for this science-fiction inspired 5 reel video slot machine. What on Earth offers a wide range of bonuses and its fun outer-space theme features such reel symbols as flying saucers, galactic monsters and asteroids. With a betting range between 0.01 cent and 1.00 dollar, this game offers something for all levels of slots player. Between 1 to 5 coins can be played per payout line, which provides a maximum wager of 45 coins (9 lines x 5 coins per line) per spin. The maximum jackpot is 37,500 coins, before bonuses. Wagering 1 coin per line at 0.01 cent, this game can cost as little as 0.09 cents (1 coin x 0.01 cent x 9 pay-lines) per spin, while still allowing the player to take advantage of activating each of the 9 paylines.In order to trigger the maximum payout, you must play 5 coins per line at whichever denomination you choose. For those players who can afford to play the maximum number of coins, as we recommend, at the highest denomination (1.00 dollar), this slot machine will average $45.00 (5 coins per line x 1.00 x 9 paylines) per spin, however it is not necessary to wager at this level in order to be eligible for the Jackpot, which is 37,500 coins.
SLOT HIGHLIGHTS:

Reels:
5
Paylines:
9
Coins/Payline:
5
Denominations:
0.01 - 1.00
Bonus Rounds:
YES (3 Total)
Wild Symbol:
YES
Scatter Symbol
YES (3)
Jackpot:
37,500 Coins
Doubler Game:
YES
Free Game:
YES
Bonus Payout Table Screen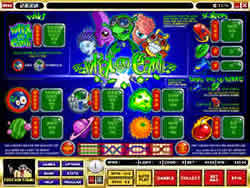 The multi-tiered Bonus Round feature can be triggered in several different ways by the appearance of three (3) distinct scatter symbols. These include, the Shuttle, Saucer and Rocket Symbols
All bonus wins are awarded in credits and each Bonus Win can be enhanced via several Multipliers, as well. The amount of the Bonus Awarded is, therefore, dependant on the player's total bet size. The result is that What on Earth will pay a larger Bonus Amount for a Higher Wager Amount.
Payouts can become very large due to the additional scatter symbols, wild symbols and special Bonus Features! The What On earth Symbol is Wild, but it can only be used to substitue for the Console and Port Hole symbols
Beam-Em Up Contest Bonus Screen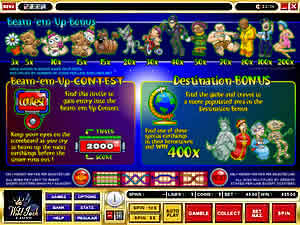 Three or more Scatter Symbols, which include: Saucers, Shuttles or Rockets displayed on adjacent reels activates the Beam 'em Up Bonus Round. In the Beam 'em Up Bonus Round you select an alien to beam up an Earthling to win a multiplier value. Multipliers range from 3x up to 200x your wager. Beam up an Earth or Contest symbol and either one of these activates a secondary bonus round where you select a major city as the destination for your spacecraft. Travel to the city you select, Beam Up unsuspecting Earthlings and win mega credits.
This bonus screen above describes all of the entertaining fun that can be found by chasing the highest value Earthlings to beam up into your spacecraft.
Beam Up a Contest Symbol and this activates a race where your alien accumulates points for all the symbols it collects via its Beams (pictured below). The total number of credits awarded is displayed below the alien you selected as your beam-worthy representative. Described by many as the most entertaining Microgaming slot machine online, this game is really out-of-this-world! Isn't it time you went surfing with these slot credit hungry aliens?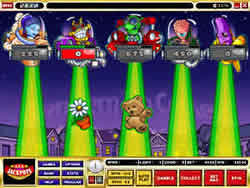 Destination Bonus Selection Screen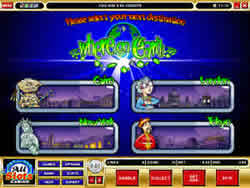 Here players can select to visit New York, London, Cairo or Tokyo on their quest to find and Beam Up the most credit worthy Earthlings.
Destination Bonus Screen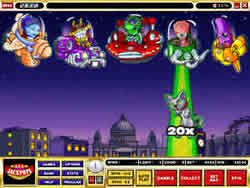 Major Features of What On Earth Video Slots
Three (3) different bonus trigger (Scatter) Symbols provide more opportunities for the player to enter one of the Bonus Rounds.
The popular Science-Fiction Aliens theme has been successful with many major land-based video slot manufacturers, such as International Gaming Technologies (IGT).
This game has multi-tiered bonus rounds where players can enter into one of two additional bonus games from the main Bonus Feature. This gives the player a total of three (3) separate bonus games to play.
Where Can I Play What On Earth Video Slots Slots Online?