Witches Wealth Online Slot Review
Witches Wealth Video Slot is one of four new Halloween Slots Online to arrive just in time for this Halloween. Instead of Trick-or-Treating this October 31, why not put on some creepy music, turn the lights down low and settle in for some exciting slots action by playing Witches Wealth online slots. If you haven't played this exciting slot machine game before, read the review below to see all the spine-tingling and change-jingling bonus round action, as well as exclusive screenshots and rules from this exciting new game!
Witches Wealth in General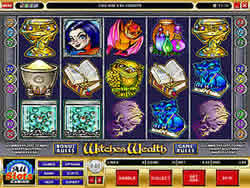 Witches Wealth is a 5-reel, 9-line video slot that has arrived from Microgaming just in time for this Halloween. When playing this slots game, the player can wager up to 20 coins per payline in denominations ranging from 0.01 cent to 0.25 cents. Wagering 1 coin per line at 0.01 cent, this game can cost as little as 0.09 cents (1 coin x 0.01 cent x 9 pay-lines) per spin, while still allowing the player to take advantage of activating each of the 20 paylines.
SLOT HIGHLIGHTS:

Reels:
5
Paylines:
9
Coins/Payline:
20
Denominations:
0.01 - 0.25 cents
Bonus Rounds:
YES (2)
Wild Symbol:
YES
Scatter Symbol
YES
Free Spins:
YES
Jackpot:
120,000 coins
Doubler Game:
NO
Free Game:
NO
For those players who can afford to bet the maximum number of coins, as we recommend, at the highest betting level (0.25 cents), this slot machine will average $45.00 (20 coins per line x 0.25 cents x 9 paylines) per spin, however it is not necessary to wager at this level in order to be eligible for the Jackpot, which is 120,000 coins, or $30,000.00 (NOTE: To be eligible for the 120,000 coin Jackpot, YOU MUST PLAY MAX COINS PER PAYLINE (20) AT WHATEVER BETTING LEVEL YOU CHOOSE!)
Witches Wealth Game Rules
The Rules Screen shown above is big and easy to read. This screen describes how to win the jackpot, how to enter one of the two bonus rounds and it also details the Wild, Scatter and Bonus Symbols used within the game itself. As you can see, your main objective is to line up 5 Wild Symbols on any of the paylines. The Wild Symbol used in this slots game is Serena the Witch. The Scatter, or Bat Symbol, can lead to increased win sizes and free spins. The Cat, Mr. Twinkles, triggers either one of the Two Distinct Bonus Rounds, depending on where he appears. Like most felines, he's kind of fickle so you need an appropriate bankroll to ensure his company! In general, a sufficient bankroll for Witches Wealth online slots would be enough to ensure 100 spins at your current betting level.
Bonus Rounds
As mentioned above, the maximum jackpot in currency on the base slots game is quite an awesome $ 30,000.00 (120,000 coins x 0.25 cents). The Two Video Slot Bonus Round Features described next can also provide some extremely high Jackpots, ranging in size from up to 1,600 coins all the way up to 16, 200 coins! The Bonus Rounds can increase current Jackpot amounts and lead to some very profitable wins. As you can see from the bonus rules screen here, three or four Mr. Twinkles on any active payline will trigger the first of the two Bonus Rounds, called the Spinning Wand Bonus Round.
The Next Level Bonus Round in Witches Wealth, the Flying Rescue Bonus, can be entered by one of two different methods. The player may reach the Flying Rescue Bonus Round, either from the Spinning Wand Bonus or by getting five Mr. Twinkles Bonus symbols on any active payline.
The two Bonus Features are described in more detail below.
Witches Wealth Bonus Rules Screen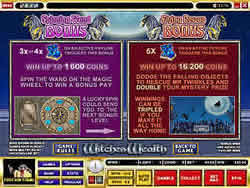 Bonus Round 1 - The Spinning Wand Bonus
In the first bonus round, the player clicks on the Spinning Wand to win wealth. The wand may land on one of six blue gems behind which are credit amounts that will be added to the player's total credit amount. To start this bonus, all the player needs to do is touch the START button seen in the screenshot.
Behind one of the blue gems is the word 'Bonus' which catapults the player into the Flying Rescue Bonus Round during which wins are tripled and the potential win is much higher.
Spinning Wands Bonus - Screen 1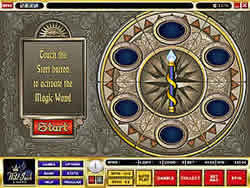 Watch the wand spin as your fortune and fate awaits "Will you win the maximum amount for this round, or 1,600 coins?" "Will you Enter the Rescue Bonus Round and win even more?"
Spinning Wands Bonus - Screen 2
As the magic wand come to rest, you will see the Grand Total of all of your spins before your very eyes, just like in Figure 6 below.
Spinning Wand Bonus - Screen 3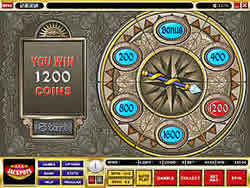 This screen indicates that the result of the current player spin is 1200 coins. The amount won is highlighted in red and also displayed conveniently to the left of the Magic Wand Wheel.
Bonus Round 2 - The Flying Rescue Bonus
This slots game has not just one, but two magical bonus rounds, each of which are triggered by a pay-line trigger, namely the appearance of Mr. Twinkles, the cat. During this second and, in our opinion, much more exciting Bonus Round, your goal is to protect this enchanted cat who is the beloved familiar of Serena the Witch! If you succeed, Serena and her sisters will be most pleased with you and will gladly share their riches!
Flying Rescue Bonus - Screen 1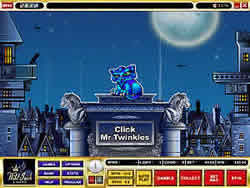 Mr. Twinkles, like most cats, knows how to get himself into trouble. During this bonus feature, he is surrounded by falling objects that could cause him harm. You can protect him during this Skill Bonus Round by clicking on Mr. Twinkles and moving him out of the way of these falling objects. The players' skill at removing Mr. Twinkles from harm's way, namely the falling pianos, chairs and sundry objects determines the bonus amount that will be awarded at the end of this Bonus Round. Keep Mr. Twinkles completely uninjured and Serena will be very pleased!
Flying Rescue Bonus - Screen 2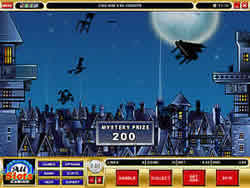 At the end of this Bonus Round. depending on how adept you are at saving Mr. Twinkles, the Congratulations screen will appear and calculate your total win. You can win money any time that you enter this round, with a maximum possible win of 16,200 coins!
Congratulations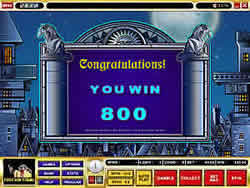 Where Can I Play Witches Wealth Online Slots?