Five Reel Slots versus Three Reel Slots
Analyzing the similarities and differences between traditional three reel slots and the newer and increasingly popular five reel video slots. Can traditional 3-reel slots last as savvy slot junkies flock to their newer and flashier 5-reel cousins?
Slot machines are becoming flashier, more sophisticated and more visually tantalizing as their jackpots continue to grow and grow....and grow. Increasingly popular are the new, high-tech five reel video slots (See Image Below), but what is it about these new 5-reel slot machines that is so appealing and is there any room left for traditional 3-reel slot machines-you know, those original, mechanical-looking things without video screens and with jackpots rarely higher than five or six figures?
More and more valuable casino floor space is being devoted to providing five-reel slots for casino patrons and with good reason. These 5-reel slots are visually appealing, extremely exciting and offer huge jackpots, sometimes even approaching or exceeding ten million dollars and people love 'em! But what about traditional 3-reel slot machines? Are these types of slots going to go the way of the dinosaur?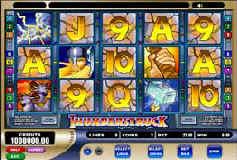 The reality is that five reel video slots, with their multitude of symbols and paylines offer more options for slot players. Slot machine aficionados can select which paylines they want active and, sometimes, even configure the symbols on each of the video reels themselves. Try doing that with traditional slot machines! 5 Reel video slots also seem to offer much larger jackpots, on the average, as well. Some of the video reels on these types of slot machines can have between thirty and ninety separate symbols on each reel. A five-reel video slot with 50 symbols on each reel can generate (50x50x50x50x50) or 312 million different 'outcomes'. This means that for a single result, the Progressive Jackpot for instance, there would be a 1 in 312 million chance of hitting. So why would anyone play a game with such long odds?
First of all, most new 5 reel slots do not have 50 symbols on each reel (it would be nearly impossible to win a 1 in 312 million long shot and we all see slot winners-even huge progressive jackpot winners-coming along more and more frequently). Second, these types of slot machines incorporate multiple paylines and wagering options, which may make some of the 'minor' jackpots more likely and create a game with many more smaller payoffs. These smaller wins can keep you in the game longer and give you more chances to win that Jackpot of a lifetime.
So how can traditional three reel slot machines compete? Well, there are what we call 'slot purists' and this breed of slots player prefers the traditional machines. They were probably playing slots when the 3 reel mechanicals were all that were available (even though the 3 reel mechanical-looking slots in casinos today are actually electrical and operate off a microchip) and prefer traditional looking slots. Some players, simply, do not trust the video slots, although these machines pay off just as frequently as regular slots. Maybe this lack of trust of the new slots is because they resemble video games more than gambling devices.
But there is no denying the popularity of these new video slots. A generation brought up playing video games is gravitating to these new slots in increasing numbers. Perhaps these machines remind this generation of their youth or, perhaps in today's world of movie special effects, people need the additional stimulation that comes from playing these visually stunning slot machines.
So whether you consider yourself a 'slot purist' and prefer the traditional Three Reel Slots or you enjoy playing these new Five Reel Video Slots, you can rest assured that there will be a slot machine for you the next time you visit your local or online casino.