Online Slots For Halloween
Players who enjoy playing slots online are in for a real treat this Halloween season, as there are several newly released slot machine games having Halloween related themes. Don't be tricked into wasting your time eating candy this October 31, treat yourself to some hot slots action by playing one of our featured Halloween slots. Seasonal slot machines are yet another innovation from the online casino industry and the four most recent slots that are currently available to play at select internet casinos are profiled below. These games, which have all been released just in time for this Halloween, are sure to thrill, haunt, excite and maybe even spook you into some cash!
WITCHES WEALTH VIDEO SLOTS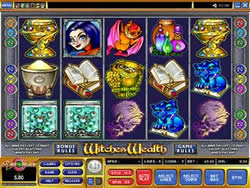 Witches Wealth is a 5 reel, 9-payline video slot machine where players may wager up to 20 coins per payline. With a maximum jackpot of 120,000 coins, a player with a little luck can reap a very nice payday! This slots game also offers two magical bonus features with several different ways to activate each of the bonus rounds and plenty of other opportunities to hit it big, as well. There is a plethora of wild and scatter symbols used throughout the game too. For more details about this Halloween-themed slot machine, as well as several screenshots where you can view all of the Bonus Rounds screens, simply click here to read our full review of Witches Wealth online slot. The setting for this game is a moonlit Halloween night in a spooky town where Serena the Witch and her cat Mr. Twinkles are up to some mischief. You'll get a chance to rescue Mr. Twinkles in one of the two exciting bonus rounds. This entertainment packed game has crystal clear sound effects and excellent, colorful graphics featuring symbols, such as owls, spell books and a collection of interesting ingredients for Serena's magic potions. Serena herself is the Wild Symbol. You will also want to see a few of the bats because they are the Scatter Symbols in this online slots game and can multiply the winning amount resulting in some very nice wins!
HALLOWEENIES VIDEO SLOTS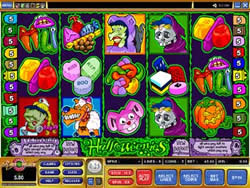 Imagine a scene full of creepy, kooky and spooky, but fun characters, monsters and candy from a past Halloween when maybe you ate a little too much candy or maybe you got a little too scared. Now, over-indulging in sweets may not be the best thing for you this October 31, but we here at Play Video Poker Slots never heard of anyone having trouble due to over-indulging in slots credits! From the moment you begin to play this spine-tingling, change-jingling game you will become engrossed in its eerie sound effects and trick-or-treat combinations of candies, pumpkins, outlandish ghouls, ghosts and goblins in vivid, gaudy and downright Halloween like colors. Click here to read our full review of Halloweenies video slots online! Halloweenies is a 5-reel video slot game packed with action, bonuses, free spins, and wild and scatter symbols. Some of the major features include a 13x free spin feature, which is activated when three or more Bizarre Bunnies appear on any of the 20 pay-lines! Enjoy the Pick a Pumpkin bonus round whenever three or more Halloween pumpkins appear on any payline. Treat yourself this Halloween by playing a game that can help you enjoy this wonderful season
SPELLBOUND 3-REEL ONLINE SLOTS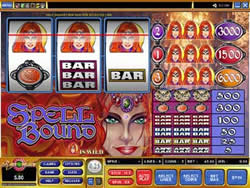 Spellbound Slots are a traditional 3-reel slot offering a fantasy theme with vivid graphics and sound effects that are sure to captivate and mesmerize the unwary player. The symbols used in this online slots game include the Enchantress, Owl, Amulet, Triple Bars, Double Bars and Single Bars. Spellbound Slots also offer a Wild Symbol namely, the Enchantress. This wild symbol will replace any of the other symbols on any reel to complete a winning combination. This feature adds several chances to win during each spin. The coin sizes accepted by Spellbound slot machines range from one cent all the way up to five dollars and you can play up to three coins per spin. The jackpot is 6,000 coins for this new Halloween-themed game. So, prepare to be enchanted when you play Microgaming's latest slots offering, Spellbound!
Can I play these slots at one casino?
Yes, indeed you can. You can play all these slots at: