Myths and Facts About Progressive Slot Machines
Get the truths about progressive slot machines, both live and online. Dispel the myths that some slot players still hold true and learn how to increase your chances of hitting a major progressive slot jackpot.
Facts
Progressive Slot Jackpots start higher than other types of Slot Jackpots

- It's true that progressive slots jackpots start higher than traditional jackpots.

Progressive Slot Jackpots are more difficult to hit

- It takes time for the progressive jackpots to grow to gargantuan levels. Since a portion of all monies wagered in these types of slot machines goes towards increasing the jackpot it can't be hit too frequently (that is, the odds against hitting the progressive jackpot are greater, which tends to make the jackpot combination appear less frequently), otherwise it would never reach those astronomical levels that make this type of slot machine so appealing.

The odds of winning a Progressive Slots Jackpot are the same for every spin

- The odds of a winning combination appearing are the same for every spin on all types of slot machines. You could in fact hit the slots jackpot twice in two spins!

You must play maximum coins to win a Progressive Slots Jackpot

- Hey, this is the reason you are playing this type of machine in the first place and the typical advice about always playing the maximum number of coins is particularly good advice when playing progressive slots since this is the only way you could ever hit the progressive jackpot. The truth is that you should always play the maximum number of coins on any type of machine because the highest jackpot is typically only awarded when the maximum number of coins are played.

Progressive Slots Jackpots are on a network where a number of slot machines contribute to the same Jackpot

- These machines are always linked, or networked, so that a portion of the cumulative amount of money spent in these slots goes towards increasing the progressive jackpot. The more of these type of machines that are linked the faster the jackpot can grow. In general, whether you are playing Megabucks at the Taj Mahal in Atlantic City or you are playing Megabucks at the Hilton in Atlantic City, you are vying for the same Progressive Jackpot. The same holds true online. For example, Major Millions, the largest online progressive slot machine, can be played at all Microgaming Casinos.
Play Major Millions at 32 Red Casino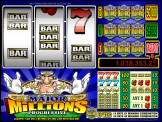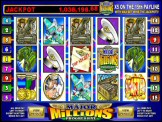 Myths
Progressive Slot Machines are due to hit

- No slot machine is ever 'due', whether it is a traditional slot or a progressive slot machine, the concept of a machine being 'due' is only a falsehood propagated by rumor.

Playing different coin patterns can trigger a hit

- In the past, there were several accounts of crafty software developers who actually programmed a feature into a video poker machine whereby playing a certain coin pattern, such as 5 coins, then 3 coins, then 1 coin, then 2 coins etc. would trigger a Jackpot. This may be where the myth that playing a certain coin pattern could trip the jackpot actually came from. We are not totally sure, but regardless of that, there is no way for the player to 'trigger' the progressive jackpot, other than being in the right place, at the right time and playing the maximum number of coins.

Land Based Casinos offer better odds on their Progressive Slot Jackpots

- In actuality, online casinos offer better odds on most games, not just slots. The reason for this is because online casinos do not have nearly the overhead associated with operating a brick and mortar casino. There is no physical location, so there are no building costs or mortgage payments. There are not the same bureaucratic restrictions, such as huge licensing fees and the same types and amounts of taxes, either. There are no staffing issues. Since there is much less overhead, the online casinos can, and do, give better odds to the player. Again, since their operating costs are only a fraction of those of land based casinos, online casinos can have a lower hold (the percentage of money they keep) and return a higher percentage to the players.
So there you have some of the most common myths and facts regarding progressive slots and their huge, almost mythical, jackpots. Before you go trudging off to your local casino, or leave Play Video Poker Slots to play at your favorite online casino, please check out some of our related articles below, which can guide you in the right direction about where to play progressive slots online and have you on the road to becoming the next big progressive slot jackpot winner.
Related Article
-
Highest Progressive Slot Machine Jackpots Online