Play the Red White and Blue Sevens and Stripes Slot Online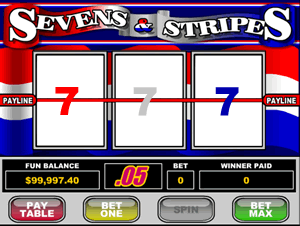 Vegas Technology is the term used by some of the more popular online casinos to indicate that their games are extremely realistic and, in many cases, close replicas of the most popular slots and video poker machines found in Las Vegas, Atlantic City and other worldwide gaming destinations. A favorite among casino goers, is the Red, White and Blue Sevens and Stripes which is a Realtime Gaming Slot. As with other realistic online versions of popular land-based casino slot machines, licensing issues make it necessary to add some slight variations to the name and reel symbols of the online versions of these games.
Play Video Poker Slots frequently highlights the newer, video slots that have become so popular, both online and off. We do realize, however, that many die-hard slot players prefer the traditional three-reel versions of their favorite slot machines to the newer games featuring video reels and animation. Both have their place, as the younger generation, which has grown up with video games in the video age, seems to prefer the newer machines and the older generation is more comfortable playing the mechanical devices, although there are exceptions to every rule! Nevertheless, the goal of Play Video Poker Slots is to offer choices for all of our visitors, while keeping an eye on the most popular land based slots games to have online versions. A recent addition to our offerings is one of the most popular Red, White and Blue Sevens and Stripes.
This slot machine is your typical three reel traditional slot, with a single payline. Classic Red White and Blue machines consist of the following icons: Cherry, Bar1, Bar2, Bar3 (in Red, White and Blue, respectively), a red 7, a white 7, and a blue 7 and tri-colored sevens. Reel symbols are separated by a blank white space between the symbols where the reels occasionally stop. What's nice about, both, the online and casino version of this machine is that lining up three 'blanks' provides a payout of between two to four coins. This can really preserve your bankroll as the multiple small wins, basically keep you alive until you hit one of the larger payouts.
There are several different variations of your classic Red, White and Blue slot machines, these consist of Double Pay, Five Times Pay, and Ten Times Pay machines. Since these versions use a multiplier symbol, these types of games tend to have a lower average payout. We recommend the traditional version, which is what you will find online and is also the most popular in the casino. Players who enjoy playing this slot machine at their favorite casino can now enjoy the online version of this popular machine.
Where Can I Play Red, White and Blue Sevens and Stripes Slots Online?
The online casino that we have found to be offering this game is: Desert Nights Online Casino. The game is offered as an actual real money slot game, either from the No Download Flash Version of the casino or from the actual casino download.
How to play
This game is your basic three reel, slot machine with a single payline. The player has the option of wagering one, two or three coins and the goal is to line up three sevens (777) in Red, White and Blue order. To wager real money, it will be first necessary to make a deposit at the casino and then to select this game from all of the available slot games. Players should make sure they always play the maximum number of coins so that they are eligible for the top jackpot on every spin.