Texas Tea Slots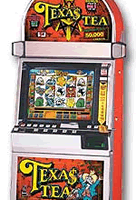 This slot machine has been described as "a gusher of a game with barrels of bonus action that will keep players' hearts pumping." Texas Tea slots feature Texas-themed five-reel graphic icons including: the Yellow Rose, Blue Bonnet, Buttercup and Barrel Cactus Flowers. This machine offers multiple pay lines and bonuses, as well. Animated symbols add to the action with characters such as Texas Ted, the Oil Tycoon and his armadillo from Amarillo, a bull, and status symbols like Ted's corporate jet and his classic Longhorn limousine.
Three or more Texas Ted scatter symbols set off one of the Bonus Rounds, called: The Oil Dividend Bonus. Once initiated, the screen transitions to a cut scene in Texas Ted's office. With his feet up on the desk, Ted writes a Dividend Check that flies to the player while displaying a credit award equal to the amount of the dividend check Ted just made out. Ted's pet armadillo entertains players by performing in the background while this scene unfolds.
The Big Oil Bonus starts when three or more oil derrick symbols land adjacent on any of the multiple paylines. Players know they are in for some exciting action as the game screen shakes and rumbles, and oil oozes over the screen. The bonus scene begins with an outline of the state of Texas divided into eight regions.Ted prompts the player to place an oil derrick on a region up to the number of symbols that the player received when the bonus was initiated. When the last oil rig has been placed, each derrick pumps oil. As oil is pumped, credits are awarded and if the player was lucky enough to select some prolific regions for his or her drilling then more oil will be pumped and more credits will be racked up!
How to play Texas Tea
With each spin of this 5-reel, 9-payline video slot, players are treated to an excellent and vibrant musical score that is well-orchestrated and enjoyable. The more you play, the more chances you will have to interact with the humorous characters, Texas Ted, the oil tycoon, his armadillo from Amarillo and a classic Longhorn Cadillac.
When three or more Texas Ted icons appear a dividend check is rewarded displaying your credit bonus. Line up three or more oil derricks and you have struck it rich with the Big Oil Bonus. As the machine shakes and rumbles and oil oozes over the screen, the bonus unfolds. You have become the oil tycoon and you decide which areas of Texas you want to place these oil derricks. Watch as they pump for oil and award you credit bonuses based on the richness of that land.
Just like Texas Tea - Play Cashville online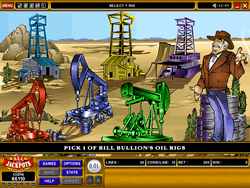 Players who enjoy Texas Tea Slots and the variety of Bonus Rounds this slot offers may be interested in a new slot machine from Microgaming, called Cashville. Click Here to Read Our Full Review of Cashville Video Slot. This slots game has a very similar Bonus Round (pictured above) to the Big Oil Bonus in Texas Tea. The game Cashville also has a Stock Dividend Bonus quite similar to the Oil Dividend Bonus from Texas Tea, as well. Players who enjoy Texas Tea will also enjoy Cashville. Everything about this game is enjoyable.
You can play Cashville here